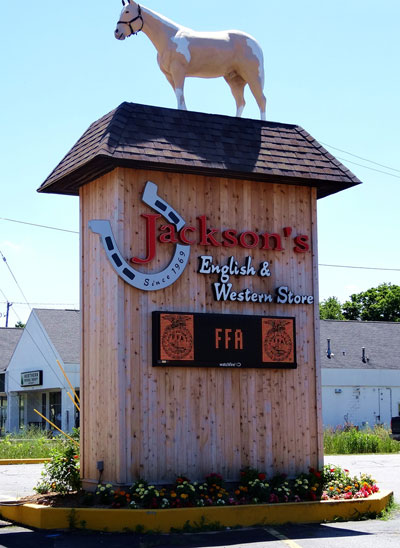 Jackson's Western Store
Adapted from an article in the Grand Rapids Press, Thursday, July 11, 1996, Written by Cathie Bloom
In 1969, Winnie (then school teacher) married Tom Jackson, who owned a feed grinding business in Wayland, Michigan. Jackson had a small building and a couple of shelves he had a few boots and cowboy hats for sale. The tack room didn't make much money when it became one of Winnie's summer projects. As a short term experiment, they agreed that if she sold $100 worth of merchandise a day, they would keep the tack business. Otherwise they'd get rid of it.
Winnie admits she didn't know a bridle from a halter when she started. Nor was downtown Wayland considered a prime business site. In retrospect, the location right off US 131 is ideal. Their customers come from about 150 miles in all directions-Cadillac, Indiana, and the Detroit area. Winnie did a little advertising, bought some new stock from the sale of her home, and extended the store hours. The store, to this day, remains open 7 days a week.
She had a knack for making things look good, and listened to the customers to know what they were interested in. The trial period for the store came and went. She had brought sales up over $100 per day mark. She discovered she liked building a business better than driving back and forth to school. She retired from counseling and became a small town entrepreneur.
She ordered the supplies the horsemen needed. One at a time she added new departments - tools of the trade, saddle blankets, spurs, and western clothing. While in Colorado she saw the perfect example of what she wanted her new store to look like. After much planning, the new store was built on West Superior Street in Wayland. The stock and the new building had gradually been expanded to meet the needs of horse lovers, whether they ride dressage, Western, hunt or conventional saddles. An entire room is devoted to saddles, another to blankets, pads, bridles and bits. One of the largest displays contains hundreds of types of boots - some made from exotic hides and others intricately decorated. There are straw hats and an impressive display of traditional Stetson hats, Jodhpurs, spurs, belt buckles, books and videos and even men's and women's formal wear. Line and square dancing provided a big boost to western wear. Everything from the most ordinary horse brushes to Annie Oakley fragrances can be found.
Winnie continued to run the store after Tom Jackson's death in 1991. In 1992 Winnie turned over management of the tack shop to her daughter Pat Weddon. The store now has over $1 million in inventory and 17,000 square feet. When asked what was hardest and best times in her life, Winnie replies: "My best time in life is right now."